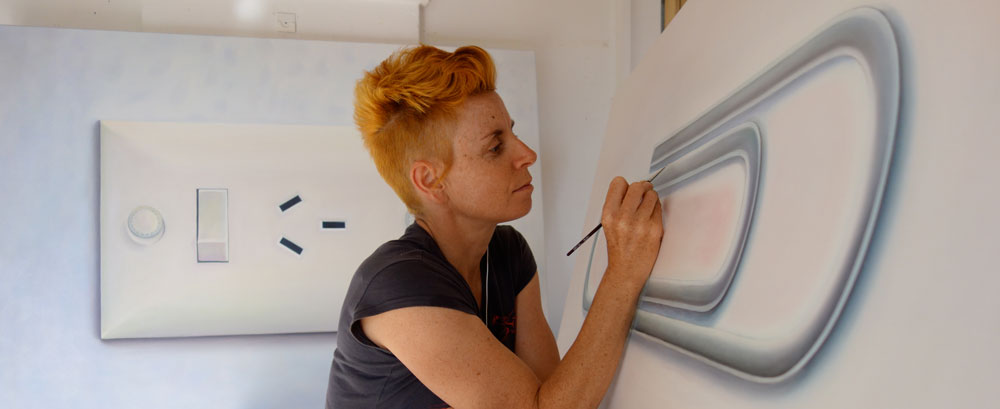 I grew up in New Zealand and moved to Australia in 1989 to study at Sydney College of the Arts. Starting with painting and print-making, an interest in popular culture and the mass media soon inspired me to create more conceptual art. I put down my paintbrushes in favour of becoming Captain Culture, the super-hero savour of art and culture.
After art school, as Captain Culture's alter ego, I went undercover in the advertising world and worked my way into Saatchi & Saatchi Sydney, where my art direction was recognised internationally.
Transferring to San Francisco in 1999 heightened my senses. I noticed things I'd taken for granted in my usual surroundings; things like bathroom signs. This seed of an idea led me to decide to leave behind the world of advertising and return to Sydney to print boy and girl icons on bed linen. But first, I took a year out to travel and live in Costa Rica, to learn to surf, play the bass, learn a new language, explore and think through my idea.
Back in Sydney in 2002 I set up the label No One You Know, a statement against all the names plastered everywhere, and went into small scale production on designer bed linen calling for art not to be restricted to walls. I saw it as art using functional everyday objects as the canvas.
While the manchester business was a great journey, it was not to be my destination. After having a daughter in 2006 and starting her early on the paints, I too found my paintbrush again and in parallel began to design and develop websites. One of my first paintings "Front Loader" was selected as a finalist in the 2010 Sulman Prize and my website designs are winning international commissions.
And so new journeys have begun in contrasting directions, putting functional everyday objects onto canvas and putting design and function into websites (www.thedesignweb.com.au).
Belinda Johnstone